CELEBRATIONS
Star Students: We had four special star students this week. Thanks for being my helpers Atticus, Ellery, Lily, and Major!
Birthday: We celebrated Evelyn's 7th birthday (9/13) on Monday! We loved reading the book How the Crayons Saved the Rainbow. Thank you for donating this fun book to our classroom, Evelyn!
Quote of the Week: This week's quote went to Ava for always being a great listener! She is such a curious first grader and is always interested in wanting to learn more. Way to go, Ava!
First Grade Family Time: Here are our "award-winning" first-graders from today's family time. Our friend's who joined the shoe tying club are: Isaiah, Breckon, Sydney, and Ava! Our lost tooth club friends include: Melwyn and Isaiah!
OUR LEARNING
Fall: We are already for fall to come! These adorable trees with falling leaves will be hung in the hallway for everyone to see. We are "fall"ing for first!
Constitution Day: On Thursday, we celebrated Constitution Day by coloring and reading a booklet about what it means! We talked about how it is the law of our country and it was created to help protect the citizens of our country. They also got to have some fun and come up with their own law for the Constitution!
Reading: We all signed our Reader's Workshop Contract promising to stay on task and complete our reading jobs. We also went book shopping in our classroom library and got to fill our book bags with some of our favorite books!
Writing: We started our small moment writing unit! At the beginning of the week, the kiddos picked something that has happened to them or something they do as a topic to write about. We talked about the process of writing a story and how we need to think, plan, write, and revise. We practiced using our pictures to help us add detail to our writing. I was proud of their hard work and the time they took to add on and revise their stories!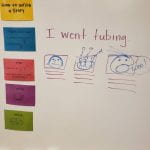 Math: We are becoming experts at number partners! This week we learned partner of 7, 8, and 9. We had some fun by having the kiddos take turns being the group of 8 and one of their classmates split them up into the partners that make 8. Last week we took our first quiz, so be on the lookout for those coming home this next week!
Word Study:  Our class mascot, Rasheed, was introduced this week! He taught us how we can study names by looking at the letters and sounds within them. We started by studying his name, and then we studied our names with our table partners. On Friday, we practiced some letter writing by tracing the alphabet and writing our names neatly in the lines!
---
Notes for Parents:
Walkathon paperwork came home with your child last week. This is our ONLY fundraiser of the year, and it is HUGE for our PTC! Please return these fundraisers in your child's blue folder before the Walkathon this Thursday, September 24. The winning class gets a pizza party! *I included the document under the First Grade Information tab at the top.
Don't forget to place your Scholastic book orders before September 30th. Our class code is: WX2DF  *I included this information under the First Grade Information at the top.
If your child participates in a fall sport, please email me their schedule! I would absolutely LOVE to come and support them at a game!
It's beginning to get colder outside, so if you could remind your child to grab a jacket in the morning, I would greatly appreciate it!
Upcoming Dates:
Monday, September 21 – Art, LIBRARY (books due)
Tuesday, September 22 – STEAM
Wednesday, September 23 – Music
Thursday, September 24 – Gym, Walkathon
Friday, September 25 – Art

Spirit Day: Maize & Blue Day

Wednesday, September 30