Notes for Parents:
I am looking forward to virtual parent teacher conferences this week! Please fill out this form before our conference to help make the most of our time together.
The annual P.E. C.A.R.E.S food drive began on November 4. We are asking for your help by bringing in non-perishable food items for Love Inc. in Hudsonville. Food items to consider are canned vegetables and fruits, pasta, rice, baked beans, black beans, kidney beans, peanut butter, tuna fish, etc. (please no ramen noodles, and please do not break apart packaged food) The food drive will continue until Nov. 18. We will be keeping track of how many items each class brings in.  The class with the most items brought in by NOON on Nov. 18 will win a P.E. C.A.R.E.S t-shirt and a bowling trip to Hudsonville Lane. (If allowed this year) This is a great opportunity for our students to care for their community, to teach our kids compassion and love for others.  Thanks for sharing in this service project with us at Georgetown!
Upcoming Dates:
Monday, November 16 – STEAM, Library

Book Fair Preview
Virtual Conferences

Tuesday, November 17 – Music
Wednesday, November 18 – Gym

Last day to donate food for P.E. C.A.R.E.S
Book Fair Shopping
Virtual Conferences

Thursday, November 19 – Art
Friday, November 20 – STEAM
November 23-27 – NO SCHOOL

Mon. & Tues. – learning packet for home
---
CELEBRATIONS
Quote of the Week: This week's quote of the week went to Lily! She makes smart choices in the classroom, hallway, specials, and at recess. Thanks for always being a positive leader for your classmates. Way to go, Lily!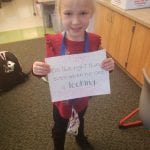 First Grade Family Time: This week Sawyer lost his very first tooth and joined the Lost Tooth Club! Keep having your kiddo practice tying their shoes!
OUR LEARNING
Word Study: We continued to look at silent e turning letters into long vowel sounds.  We also investigated that there are very few long e words with silent e (here, these, Pete).  We looked at how most often long e is made with ee or ea. Your Word Detectives did an awesome job spotting these vowel patterns in their books!
Writing: We continued working on our very one how-to writing pieces. We will be working on publishing a new piece this next week!
Math: We reviewed addition and subtraction at the beginning of the week and had our unit 2 test on Thursday! Our class did great, and I can't wait to share them with you at conferences!
Reading: This week the detectives focused on using snap words we know. We practiced reading the ones we already know in a snap, we thought about if we could guess the word based on the context clues, we saw if the words reminded us of a snap word we already knew and we worked on having a word turn into a snap word. It was exciting because we got our own Word Detective Badges. We even created an advertisement to let the everyone know we are now Word Detectives!
We learned about the holiday some people celebrate called Diwali, the Festival of Lights! It is a festival that celebrates new beginnings. They had a blast creating these paper lanterns.