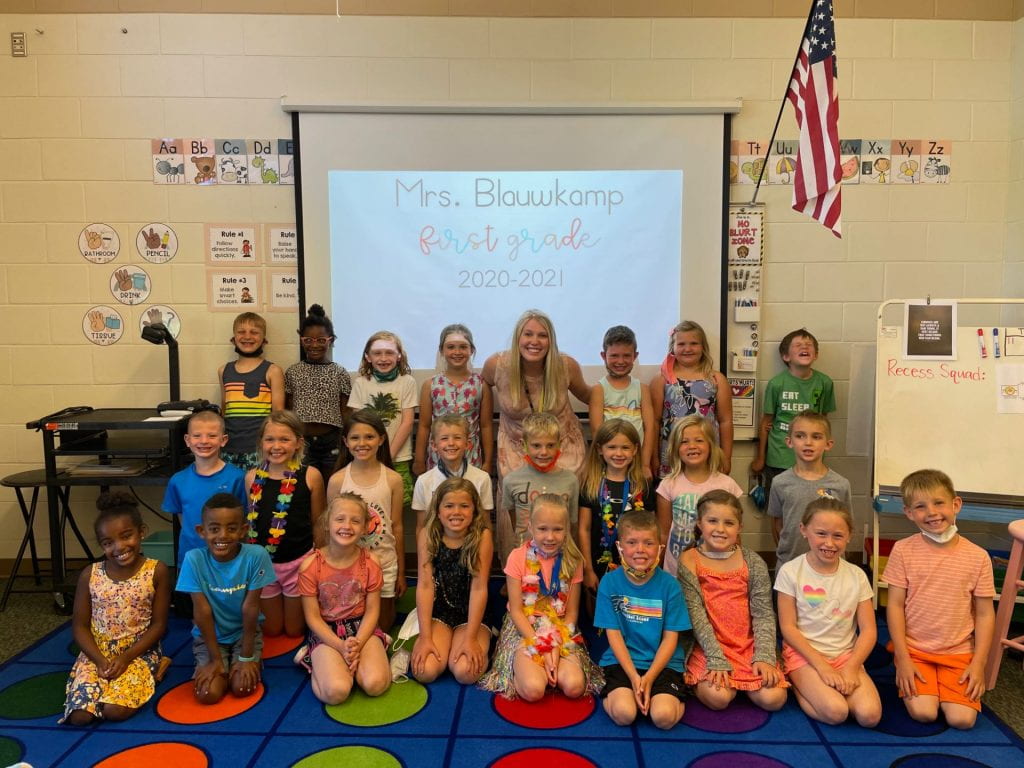 I can't believe this is the last blog post for the year… your kiddos are officially second graders!!! I just wanted to share my gratitude with all of you for what we accomplished this year. I appreciate your partnership to help your children get to where they are today. We made it through a year of not having the chance to meet in person (at least for some of you), no parents allowed in the building, being virtual for a few weeks, and so many more changes. I am incredibly proud of how flexible your children were and the grace they gave me every day. It's tricky being a first year teacher (on my own) and having it take place during a global pandemic didn't make it any easier, but it was my students who pushed me to do my very best! I truly adore all of your kids, and I am SO thankful I had the honor of being their first grade teacher. Thank you for sharing your kiddos with me and all that you have done to support me this year. Please stay in touch and know that you can always email me if you have any questions regarding school throughout the summer. Thank you, thank you, thank you! ♥
---
CELEBRATIONS
Birthdays: This week we celebrated Major and Zoe's birthdays. Happy birthday, Major and Zoe!
Donut Day: We earned all 15 stars for our final reward day. The kiddos enjoyed some yummy donuts!
5th Grade Clap Out: Since the fifth graders will be moving to the middle school next year, we wanted to send them off in a special way!
---
LEARNING
Sports Day: To start off sports day we created our very own realistic fiction story by rolling a dice. We rolled the dice to choose our athlete, setting, and problem. For word study we did a word sort and sorted words based on if they make the sound 'oo' like in hoop or 'oo' in look. In math, we worked on partners of 10 by coloring jerseys, and we even played some basketball with cheese puffs. Each cup they made a cheese puff into had a number under it, so they had to add all three numbers together. The partner with the highest score won! We enjoyed field day during specials where we did a three-legged race, a sponge bucket fill, and more fun games.
Lemonade Day: As a class we made some lemonade together… it was so tasty! We reviewed our "how to" writing skills and wrote about how to make lemonade. For reading, we worked on our retell skills about a lemonade story. After trying both lemonade and pink lemonade, we worked on our graphing skills to see which kind was liked best by the class! For word study, the kiddos tried to make as many new words as they could using the words 'cold lemonade'.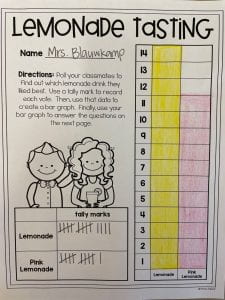 Beach Day: We are SO excited for summer, to kick off beach day we created summer bucket lists! We got to spend one last day out on our beach towels enjoying some of our favorite class books. In math, we caught fish and found seashells to work on our comparing skills. We completed a fun beach crossword for word study!
Last Day Fun: We had a fabulous last day of first grade!